HospitalIndex surveys thousands of people in key metro areas, every quarter, to gather attitudes and perceptions of nearby hospitals. Survey results include insights about your organization in the context of your competitive footprint.
Respondents are drawn from our panel of 1.2 million members, a panel that's been extensively profiled on health-related factors including health conditions, employment status, insurance coverage and more.
With a subscription to the HospitalIndex, you'll receive concise information, quarterly, on how the public views your organization and your local and regional competitors. These insights will enable you to:
Know if you are the preferred hospital in your area
Identify competitive threats and opportunities
Measure marketing/advertising effectiveness and return on investment
Develop campaign messaging that resonates with your audience
Optimize your promotional resource allocations
Manage your public image, even through crises
Address emerging trends in your development strategy
HospitalIndex is a hybrid of multi-client research and customized survey questions that are proprietary to your organization. This streamlined approach combines the economy of standard, recurring research with insights specific to your strategic objectives.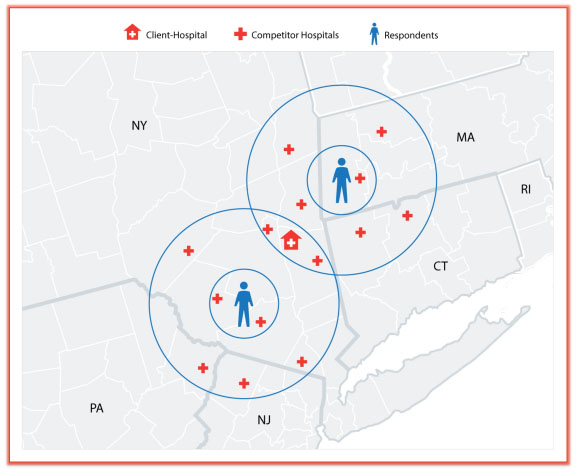 Click for more
HospitalIndex develops a competitive set at the level of each individual respondent, ensuring that the hospital set we show to each respondent is unique and relevent to them.