YouGov Panel
YouGov operates an online panel of nearly two million respondents in over 11 countries. These represent all ages, socio-economic groups and other demographic types enabling us to create nationally representative online samples and access hard-to-reach groups, both consumer and professional.
Our main panels are in the US, UK, Germany, France, Denmark, Sweden, Norway, Finland, UAE, Saudi Arabia and Egypt.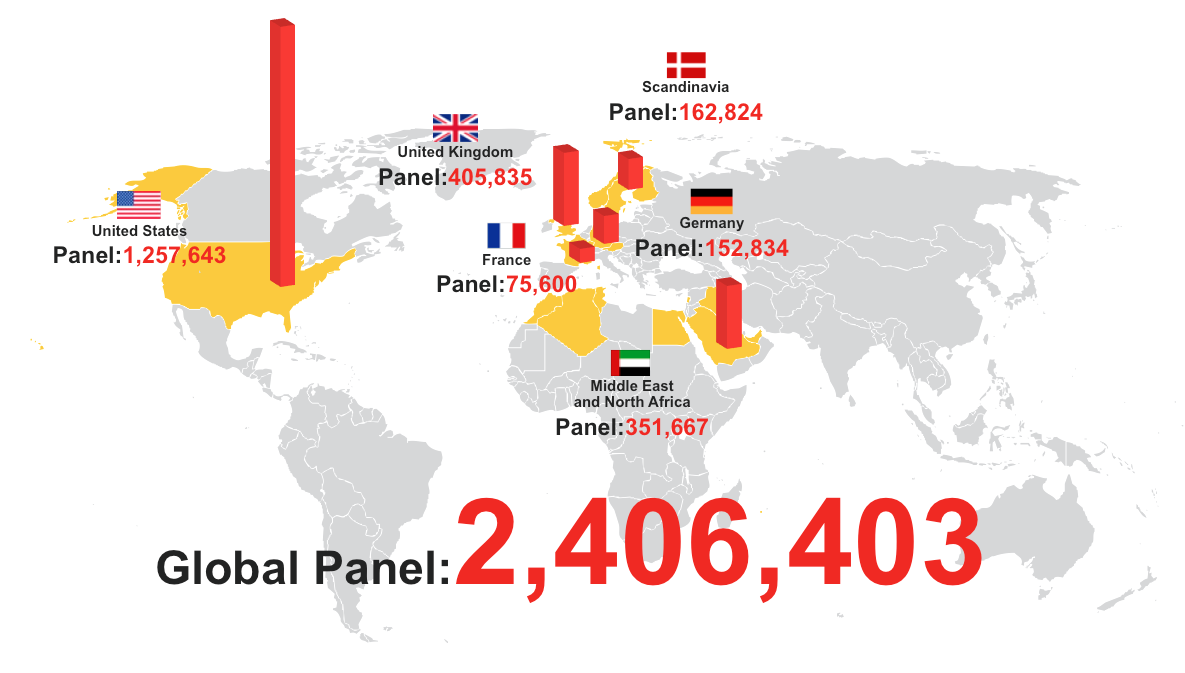 Methodology
Our panel delivers continuous access to an engaged, responsive audience that is profiled on important demographic, attitudinal and lifestyle attributes. This ensures that we can execute a wide range of projects – from national representative samples to re-contact surveys with hard-to-find audiences.
We achieve this through proprietary sampling algorithms which we use to construct detailed and continuously dynamic sample management matrices. These were developed by Dr. Doug Rivers, Stanford University Professor and Chief Innovations Officer for YouGov, and one of the most highly respected sampling experts in the industry.
Panel Management
Panel management and survey design are important influencers of data quality. We ensure panel quality by:
Eliminating duplicates through automatic email deduplication, CASS validation, and monitoring IP address and cookies.
Ongoing engagement efforts including continuous re-engagement, adherence to panelist preferences, AJAX-based survey widgets and survey design review.
Data quality best practices include the removal of non-responders, automatic profile updates, speeding and garbage response traps
Panelist involvement is ensured through contact frequency preferences, online panelist support and feedback loop for all surveys.
Data Accuracy
In the 2012 Election Cycle YouGov hit the national vote split with almost no error using a large national sample.
Press commentary on the 2012 election polls:
Los Angeles Times – Which pollsters did best: Non-traditional methods were standouts
The New Yorker – Cassidy's count: a victory for the pollsters and the forecasters
Huffington Post – Who's The Best Pollster Of 2012? Not So Fast
Washington Post - Which pollsters to trust, in one chart.
Politico – The most accurate polls of 2012
YouGov Results in 2012 US Elections
YouGov Results in 2010 US Elections