Phone users planning to upgrade value 'ease of use' the most
The most important feature of a new phone is its user friendliness, a survey of consumers planning a handset upgrade has found. YouGov InvestorView asked US mobile users who want to buy a new phone in the next few months what they consider to be the most important feature, and ease of use is top for 23%.
The second most important consideration is a phone's functions and features, which 20% of consumers planning an upgrade value. The results were polled among people who plan on buying a phone in the next six months, with interviews taking place from May 2011 to June 2012. YouGov InvestorView Telecom took a nationally representative sample of 3,120 people drawn from YouGov's online panel.
Apple ($AAPL) and Blackberry ($RIMM) users value functionality the most – 26% of iPhone and 17% of Blackberry owners. But ease of use is most important to LG ($LGLD) (29%), Motorola ($MSI) (29%), Nokia ($NOK) (37%) and Samsung ($SSNLF) (25%) owners. The design of a handset is most important for only 4% consumers, 3% of Apple users and 10% of BlackBerry users.
The data suggests that consumers looking to purchase a new phone will judge a new handset on its merits – only 8% would buy a new phone primarily based on its brand reputation. This could be good news for brands which have so far not made in-roads in the smartphone market, such as BlackBerry and Nokia. Both brands have recently reworked their smartphone range – Nokia released a new operating system in October with its Lumia range, the most recent model, the Lumia 900, went on US sale in March 2012. And the BlackBerry aimed to improve the brand's high-end market offering with the BlackBerry 10 in May 2012.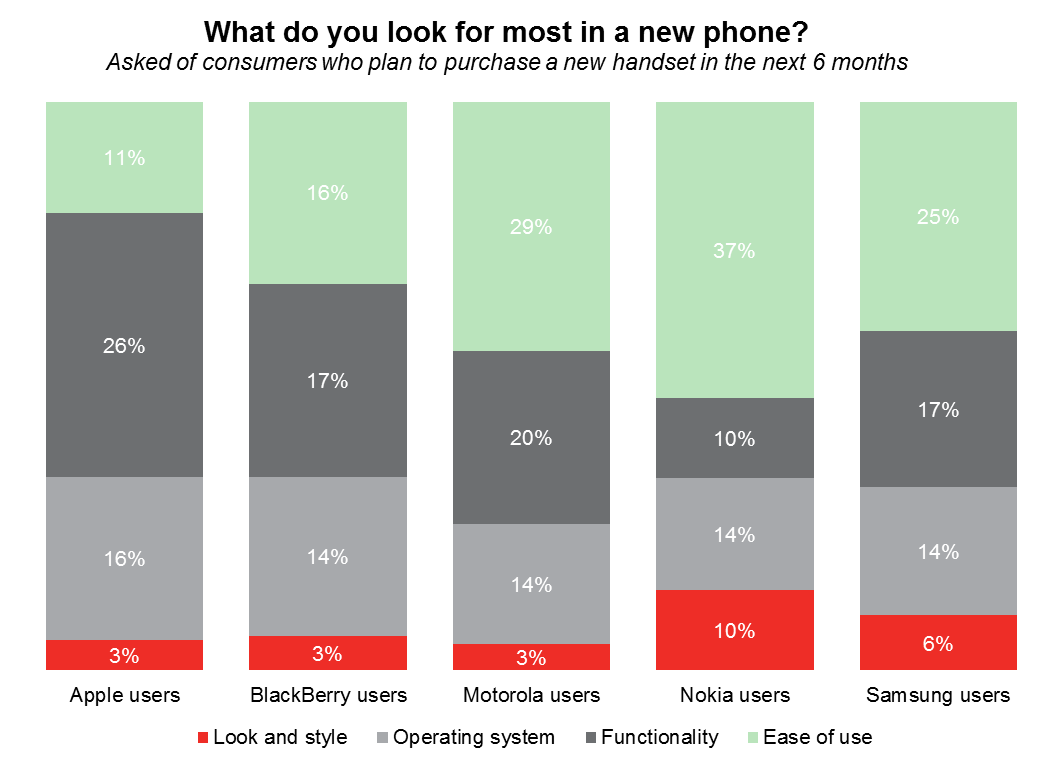 Research was conducted based on a US Investment Products Survey conducted May 2011 to June 2012. For further YouGov InvestorView insights into the smartphone sector, contact Ted Marzilli at 646-723-4646 or ted.marzilli@yougov.com