An Omnibus is a shared cost, multi-client approach to survey research that lets you conduct your study at a fraction of what you might spend on an ad-hoc study without compromising on the quality of the data.
YouGov manages its own panel of over one million US responders with over 2.5 million worldwide. Panelists regularly answer detailed profile questions so we know a great deal about their demographics and behavior before they take part in our Omnibus surveys. This enables us to target the specific audience you need to reach within a general population sample, and ensures you only ask the questions that are important to your organization or program.
YouGov Omnibus
1,000 nationally representative responses (aged 18+), available in 48 hours. Videos and images can be included and the survey runs daily.
Results are delivered in Excel tables as standard, with your data analyzed by the following demographics:
Gender
Age
Region
Household Income
Education
Social media usage
Children in Household
A whole host of additional demographics are available on request.
Who uses Omnibus surveys?
Omnibus surveys are the ideal vehicle for shorter research surveys especially when results are needed quickly.
Our clients include:
PR agencies and corporate communications teams seeking the facts to create leadership studies or stimulate media interest.
Charitable/non profit organizations looking to track awareness of advertising campaigns.
Lobby groups and non profit organizations asking questions on public opinion issues like welfare or proposed legislation.
Sports and event sponsors who want to track changes in perception.
Marketing and customer insight teams looking to understand trends in their industry, and the attitudes and behaviors of customers and prospects.
Company strategists needing reliable data to make better-informed business decisions quickly.
Understand the Omnibus Production Process
Access the US Omnibus ratecard here.
YouGov International Omnibus can reach both nationally representative and specialist samples
> More
A fast, cost-effective way to get opinions from business decision makers across the nation.
> More
LGB and Heterosexual views on political, social, and marketing issues.
> More
What Washington thinks about the issues you face.
> More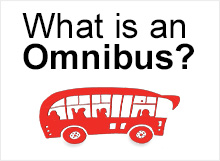 ---
Find out what YouGov Omnibus
can do for your company.